Gone With The Wind Lamps
Hannah Murphy Lamps & Lampshades
Hundreds of glass replacement shades are available in all styles, sizes, and colors. The selections in our catalogs are almost endless. Call or send us an e-mail if you're looking for a special size or design of Student Shade, Torchiere Shade, Vianne Glass Shade, Reverse Painted Shade, Ball Glass Shades, Gas Shades, Cased Glass or Slant Shades, Hurricane shades, or Reflector Bowls. We custom order most of them and can ship within approximately one week.
Toledo, Washington
Order Toll-free 1-888-640-LAMP (5267)
email: hannah@toledotel.com
All glass lamps on this page are custom special orders.
15% Restocking Charge for Items Returned
Click on thumbnail images to enlarge to full size, then click on "Back" button to return to this page
All Glass Shades and Lamps are shipped UPS or Priority Mail, Insured, which ever you prefer. Even though we pack them all the same -- very carefully -- our experience has been that if the package is NOT insured, it will arrive broken almost every time! (Ironic?) It is well worth the extra $2.35 per $100 value for insurance.
All glass items are double-boxed for protection in shipment. An additional $5 packing fee is charged for any box over 16" cube. Call to learn costs for shipping and insurance.
* * * * * * * * * * * * * * * * * * * * * * * * * * * * * * * *
Vintage "Covered Wagon with Roses" Lamp complete with Chimney
Click on each picture to enlarge
Note: Pink color on top globe is darker than on the bottom font. It's the same design, but probably not the original.
Base is new, identical to the original base.
Top globe and Chimney should be shipped separately from rest of lamp for safety's sake.
Lamp complete $400.00
Shipping & Insurance, depending on location, $40 - $60
* * * * * * * * * * * * * * * * * * * * * * * * * * * * * * * * * * *
Antique Ruby Glass Font, New Ruby Glass Dot Optic Ball Shade $395 plus shipping & insurance
Click on pictures to enlarge to full size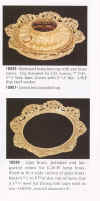 Click on pictures to enlarge to read descriptions
"Southern Rose Ball"

10" Ball, 4" lip fitter, Hand Painted
(Click on pictures to enlarge)
Matching "Southern Rose" Dome

14" Dome for hanging fixture, Hand Painted
Gone With the Wind Lamps
Click on picture below to enlarge to full size

This line has been discontinued
Call for additional details - Prices subject to change
Click on pictures to enlarge
One 10" Cherubs Ball Shade in stock, Creamy Tan background (#05074) $149
******************************
Cherubs Banquet Lamp - Circa 1880 Reproduction
THIS LAMP HAS BEEN DISCONTINUED - NONE LEFT IN STOCK

We now accept

credit card payments directly. Any other credit card payment can be made through PayPal at https://www.paypal.com. Call us first to determine shipping and insurance charges.