Across-The-Board Woodworks History
Victorian Lampshades & Lamps, Home & Garden Furniture
Hannah Murphy Hand Sewn Victorian Lampshades
Victorian Lampshades & Lamps, Brass Lamps, Replacement Lamp Parts
Handcrafted Custom Lampshades, Antique Lampshades Re-Covered, Hardback & Silk Lampshades
Victorian Lampshade Frames & Lampshade Making Materials & Supplies
Replacement Glass Lampshades
What does woodworking have to do with lampshades? Many have asked how we got into this business. My son, Jeff, started doing his fine woodworking building outdoor furniture. One day when he wasn't very busy, he turned a beautiful wood lamp on the wood lathe. He went to the local ____-Mart store and brought home an ugly, cardboard every-day, run-of-the-mill lampshade -- the only kind you can buy off the shelf these days in most discount or department stores. I almost got physically sick looking at that tacky piece of junk! It really "dumbed-down" the beautiful craftsmanship of the lamp. I didn't want to hurt his feelings, but I thought, "Even though I've never done it, I think I can build a lampshade better than that!" So I did! Jeff agreed - no more cheap-factory-machine-made lampshades for his lamps!
Our first lamps and shades
Shortly thereafter, we started getting calls for lampshades. I soon tired of only making "hardback" lampshades, so I got Mary Maxwell's video on "How to Make Victorian Style Lampshades". That was it! I started making the Victorian style lampshades, and the more pictures we put on the website, the more orders were flying in for lampshades.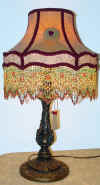 One day a lady called saying she'd love to have one of my beautiful lampshades, but first she had to get her old floor lamp rewired, and it was missing a part, so we began to offer lamp repair service. Before we knew it, we were getting more inquiries regarding lamps and lampshades than we were on Jeff's outstanding woodwork projects.
(click on pictures to enlarge)
Then we started getting inquiries from people who wanted to make their own shades, but they couldn't find the frames or supplies anywhere. Then we started getting inquiries for lamp replacement glass shades.

One thing kept leading to the next, and now we're building lamps and repairing lamps and sometimes can't even find the table saw in the midst of 3,000 lampshade frames and every describable lamp part! We are sometimes overloaded with orders for new lampshades and lampshade restorations, but our customers have been quite understanding and very patient. Thank you! We treat each order as if the finished product were going into one of our own homes, paying a great deal of attention to the slightest details. We use the finest materials available, but keep the cost affordable for the average homeowner.
There are companies who mass-produce lampshades with their complicated machines and toxic chemical glue processes, and pump out thousands of lampshades each day - mostly cheap imports, but each of our lampshades is hand made right here in America! We'd love to see more "every day" necessities Made in America, but unfortunately, the trend is to make things as cheaply as possible, and import everything from overseas and throw it away when we're tired of it, or it gets dirty or breaks. We're proud that our products will become family heirlooms!
I retired from 30 years of accounting and tax work, thinking this would be a "fun retirement". (Now I'm working 7 days a week, can't call in sick, and no paid holidays!) But I can't begin to tell you what satisfaction I get from helping people solve a lamp or lampshade problem. I love this hobby-gone-berserk!!!
My other son is also working full time in the shop, and is the "main man" when it comes to making hardback lampshades, building lamps, and running the shipping department.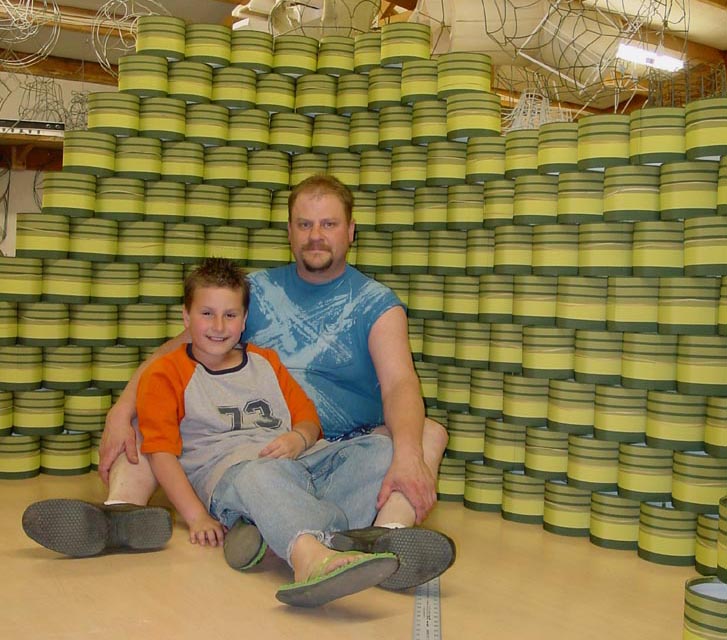 (Click on pictures to enlarge)
I generally answer the phone, but you can be assured that Dave is learning the entire business, including maintaining the computerized inventory. One day he said he'd like to try his hand at making one of the Victorian style lampshades. I was very pleasantly surprised to see the end result... his "Victorian Beauty" was better than my first hand-sewn lampshade! I've lost track of the hundreds of lampshades I've made since my first one. I haven't even begun to make all of the shades I want to make! We want to keep this business just the way it is - a family business -- maybe hire more people to handle the everyday office details so we can concentrate on building lamps and lampshades, and solving customers' lighting problems.
Call us toll-free if we can help you with a lamp or lampshade problem! 1-888-640-LAMP (5267)

Click on pictures to enlarge
12-21-08 Snow